Lindsay Lohan began serving her jail sentence this morning - at her
Venice, Calif., townhouse - after turning herself in to the Lynwood Jail
hours earlier. "She is now confined to the interior premises of
her home at all times," L.A. Sheriff's spokesman Steve Whitmore said
after her 5:02 a.m surrender. She showed up to begin her 120-day sentence, but it was determined that, as a non-violent offender, the actress was
eligible for home confinement
.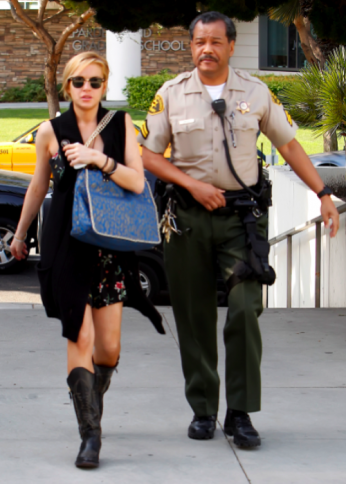 One day, LiLo may appear somewhere other than court or jail. But not today.
She was fitted with an electronic ankle monitor and released. No new
celebrity mug shots
today or
Lindsay Lohan photos
for the forseeable future! Despite
being handed four months in jail after she pleaded no contest to
stealing a $2,500 necklace, jail overcrowding, good behavior and
budgetary constraints all potentially could lessen that sentence to a
matter of just a few weeks. Whitmore declined
to say whether any exceptions would allow Lohan to leave her home, but
the ankle monitor will not test for blood or alcohol this time. Given Lohan's
track record
, that's a relief. Lohan
also serving 480 hours of community service – mostly at a downtown
women's shelter but also on janitorial duty at the L.A. County morgue. A
judge forbade the actress to attend community service while under house
arrest, so it looks like she's home until the law says she can leave. No rush, law.